2020 AGBU Sayat Nova International Composition Competition
---
Launched by AGBU France in 2006, the AGBU Sayat Nova International Composition Competition is a biennial contest open to composers from all backgrounds. The competition is designed to introduce Armenian traditions to a wider audience by having composers create pieces for an ensemble of western classical and Armenian traditional instruments. Composers must also incorporate the works of Armenian poets, which in the past have included Sayat Nova, Daniel Varoujan, Grigor Narekatsi, and Silva Kaputikyan. For the 2020 competition, composers must find inspiration in the poetry of Vahan Teryan.
Since the start of the competition, submissions have arrived from over 30 countries, including Ghana, Russia, Italy and Korea in addition to Armenia and the United States. Winners have hailed from Mexico, Argentina, Lebanon, France, Armenia and the United States. The top three winners of the competition receive a cash prize of 3,000€, 2,000€, and 1,000€ respectively, have their works performed at our Gala Concerts in Symphony Space (NYC) and Le Salle Cortot (Paris), in addition to four special prizes:
Carnegie Hall Award: The work selected for the Carnegie Hall Award will premiere at the "AGBU Performing Artists in Concert" series at the Weill Recital Hall at Carnegie Hall.
Armenian National Philharmonic Orchestra Award: The Armenian National Philharmonic Orchestra's (ANPO) Award will be given to the first prize recipient. He or she will be commissioned to write an orchestral work that will premiere by the ANPO.
ARmusic Publishing House Award: In collaboration with the Composers Union of Armenia, the top three prize winners of the Competition will get their winning works published by the Union's ARmusic Publishing House in Yerevan.
Piano Teachers Congress of New York Award: The winner will be commissioned a work to be premiered at Carnegie Hall during the Piano Teachers Congress of New York's Honors Program Gala.
Armenian Institute Special Poetry Award: The winner will receive opportunities for increased exposure through special events, features on podcasts, and online publications.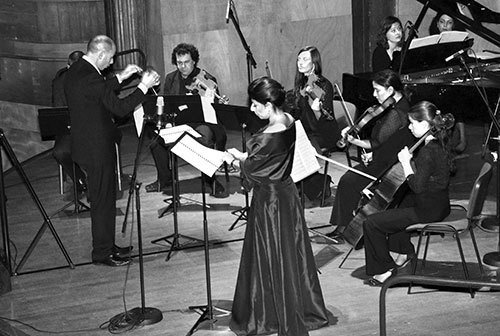 ---
---